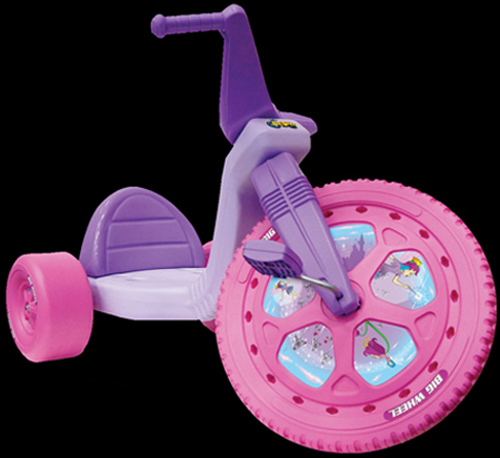 The Original Princess Big Wheel - 16" Trike.

Color: Purple & Pink.
$ 97 to $147.77.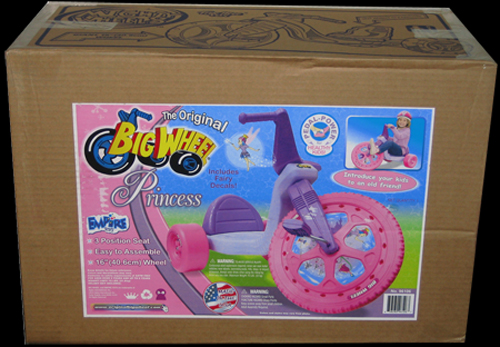 The 95% Assembled = We assemble the trike completely, attach the decals, make sure everything is OK, Then take the handle bar and rear wheel off. Ships in a plain brown box. You just need to drive 2 attached screws into the handle bar and attach rear wheel with 1 cap nut. It would take only 1 minute to complete, comparing to up to 1 hour for an un-assembled one.
We also have a small number of Demo/ Slightly used trikes.
You can save a lot of $$!
The Demo trikes are in perfect condition, only the weheels are sligtly scratched. They are shipped 95% Pre-Assembled.
The classic "low-rider" profile makes it safer than standard tricycles.
Adjustable 3 position seat that allows the trike to grow with your child.
Awesome 36-pack. of durable, weather-resistant decals.
High-visibility colors for safety.
Easy assembly.
Does not have a hand brake.
Suitable for children ages 3 to 8 years.
Assembled Size: 36 x22 x 22.
This Original

Princess

Big Wheel is in Stock!
Please note, colors may vary from the stock pictures due to the production issues as well as the monitor resolution.
Please allow 2 to 3 weeks for delivery.
For faster service, International Shipping or volume discounts, please e-mail directly.
Thanks.
All shipping charges are for the continental United States.
International shipping is extra.
Shipping Options
ADD

Canada & Hawaii

Priority Mail
2 to 4 days
International
(Europe, South America...)
International 2
( Africa, Australia, Orient...)

$60

Express Mail
1 to 2 days

$69

Expedited Service
2 to 7 days